Fine Art Books
Future Memories: Utopia Dystopia Nature, 2022
Exhibition Strategy, Reflection, Documentation
Author: Harald Kraemer of City University of Hong Kong
Mercury 20 Gallery at XV: 15 Years of Art and Community, 2022
Bay Area Women Artists' Legacy Project: The Seventies, 2022
Introduction by Maria Porges. Mary Curtis Ratcliff is profiled on pages 30-31.
Bay Area Women Artists, 2020
Introduction by Terri Cohn. Mary Curtis Ratcliff is profiled on pages 38-39.
Now offering a selection of work from the Full Circle, Arborescence and Small Worlds series as Blurb books.
Mary Curtis Ratcliff: Full Circle
by David Littlejohn, Peter Samis
A retrospective survey of the career of visual artist Mary Curtis Ratcliff, starting with her early hoop and ribbon sculptures of the Seventies and moving through subsequent bodies of sculpture and 2-dimensional work. The book culminates in Ratcliff's current series of photo-based mixed media works, some of which are kinetic and once again play a sculptural role in space. View on Blurb
Small Worlds
Small photographs from travels afar of scenes the normal viewer takes for granted are transformed into abstract, otherworldly places through Ratcliff's vision and meticulous handwork.
The works in Small Worlds explore the border between photography and drawing, the mechanical and the handmade—between the objective and subjective; always with great sensitivity to framing and cropping, the use of the close-up, and photography's potential for abstracting details from the world. The finished images show us shimmering, shaking or prismatic views multiplied by glass, rippling water, or filtered through shadow. Some are straight photos, others have been de-natured, transferred, and scrupulously re-created by hand. It is often difficult to tell which is which. View on Blurb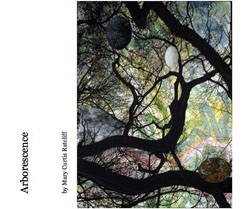 Arborescence
Mary Curtis Ratcliff received her degree in fine arts from the Rhode Island School of Design, where she majored in sculpture. Since that time, she has created a diverse body of work in both two and three dimensions. She has always been inspired by natural phenomena. Her latest work unites photography, drawing, painting, and sculpture. "What I choose to focus on and make into finished compositions comes from constantly looking at natural forms. I intuitively seek out images that represent peace, stillness, and mysterious complexity." Ratcliff has exhibited in over 20 solo and 100 group shows. Her work is in more than 80 private collections including the Fine Arts Museums of San Francisco – Achenbach Foundation for Graphic Arts and the Oakland Museum of California. View on Blurb